Yi-Pin Lin
Research Scientist IV, Wadsworth Center, New York State Department of Health
Assistant Professor, Department of Biomedical Science, SUNY at Albany
Adjunct Assistant Professor, Department of Biology, SUNY at Albany
B.S., National Cheng Kung University, Tainan, Taiwan
M.S., National Taiwan University, Taipei, Taiwan
Ph.D. Cornell University, Ithaca, NY
Postdoctoral training, Tufts University School of Medicine, Boston, MA
My research interest is to understand the role of host-pathogen interactions in promoting the manifestations of infectious disease. My research focuses on how pathogens establish infection and disseminate to target tissues. Particularly, I investigate the molecular basis of Lyme disease bacteria that promotes distinct host tropisms in the infection cycle and is involved in the interaction of multiple species of animals, ticks, and pathogens. I am further applying the information gained from these basic studies to identify the promising targets that can be developed for new Lyme disease vaccine and diagnostic tools. 
Ashley Marcinkiewicz
Research Scientist and Laboratory Manager
B.S., Wells College, Aurora, NY
M.S., University of New Hampshire, Durham, NH
Prior to my time in Dr. Lin's Laboratory,  I studied the foodborne pathogen Vibrio parahaemolyticus, correlating phylogeny and pathogenicity markers to the geographical locations of specific lineages in oysters.  
Since joining Dr. Lin's Laboratory in the summer of 2016, I study the immune evasion (specifically complement evasion) of Lyme borreliae outer surface proteins. My research focuses on how variation of these proteins promotes host tropisms. I identify the domains/motifs of proteins that determine the host-specific infection. I also examine Lyme borreliae proteins as potential vaccine candidates. CspZ-Y207A/Y211A, one such protein, has demonstrated efficacy in Lyme disease prevention (see Marcinkiewicz Front. Immunol. 2018).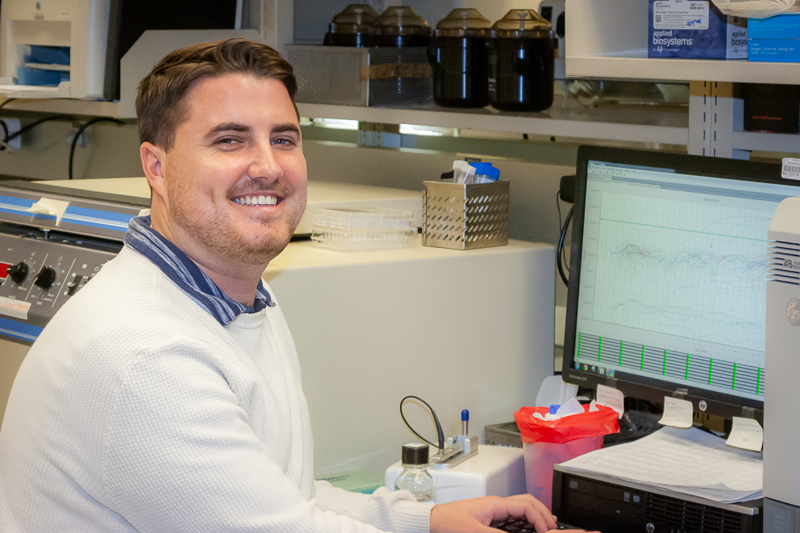 Thomas Hart
Ph.D. student, Ecology and Evolutionary Biology Program, SUNY at Albany
B.S., Furman University, Greenville, SC
Previously I studied the behavior of dragonflies and collected ticks from the field for surveillance. 
Since joining Dr. Lin's Laboratory in the summer of 2016, I investigate the mechanisms of Lyme borreliae species/strains transmission: host-specific and tick-to-host. I also study the evolution of several allelic variable adhesins or complement regulators, including an outer surface protein, CspA, in promoting host compentence (aka "host tropisms"). I have developed methods to study these mechanisms and hope to eventually generate prevention or therapeutics targeting these mechanisms to reduce the burdens of Lyme disease.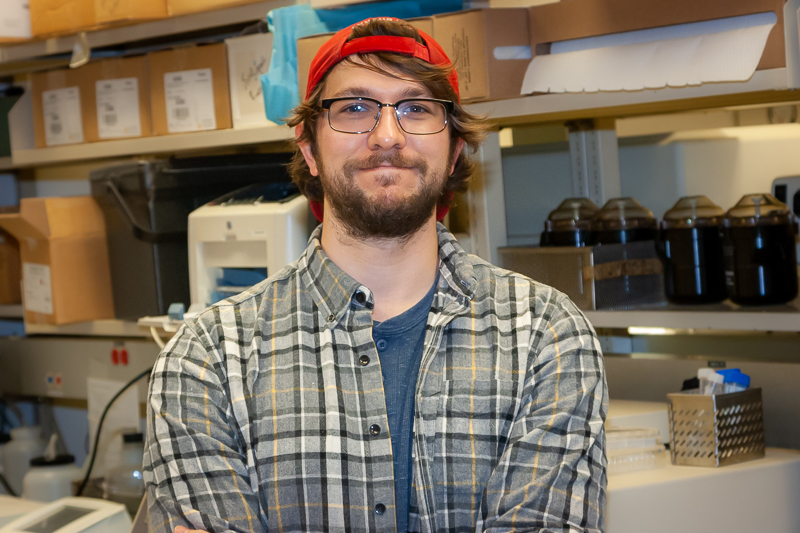 Tristan Nowak
Ph.D. student, Biomedical Sciences Program, SUNY at Albany
B.S., Syracuse University, Syracuse, NY
M.S., University of Florida, Gainesville, FL
Before starting my Ph.D., I studied the behavior of red widow spiders and emerging infectious diseases in New York state, including tick-borne pathogens, and spent five years working in quality control microbiology and virology laboratories.
Since joining Dr. Lin's Laboratory, I have been investigating the pathogenesis of Lyme disease and the immunomodulatory functions of Ixodes spp. ticks, the primary vector of Lyme bacteria and various other pathogens. By genetically manipulating both ticks and bacteria, I am aiming to define the determinants that impact fitness of ticks and bacteria throughout their enzootic cycle. I am also developing tick infection models with other tick-borne pathogens, Babesia microti and Ehrlichia muris, to identify the immunological pathways that lead to manifestations, which can be used to target candidates for transmission blocking vaccines.