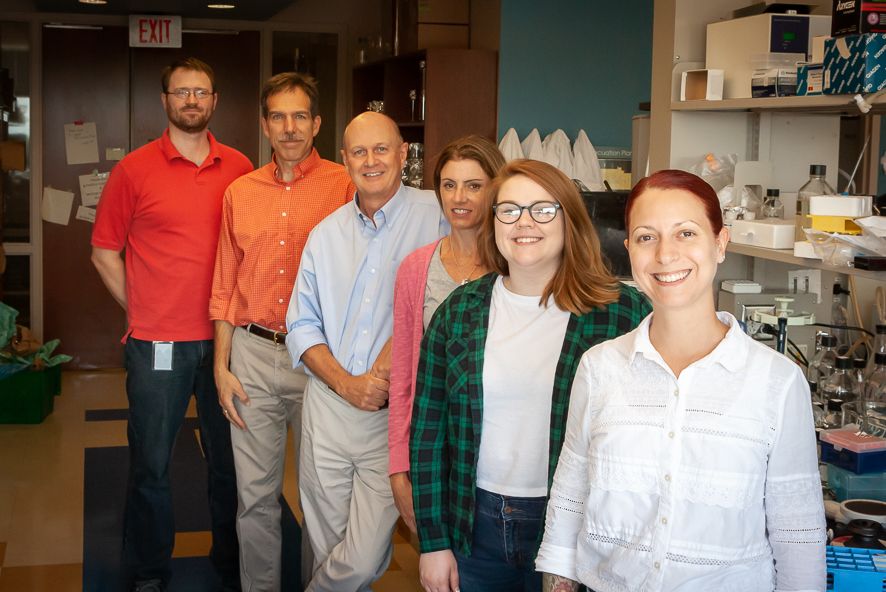 From left to right:
Ryan Clark, Senior Technician | Ryan works on distributive conjugal transfer and is investigating the recipient induced esx4 locus. 
 
Todd Gray | Likes to dream up new areas of investigation, and tinkers at the bench just enough to give those projects an initial push before handing them off. He enjoys the relative ease of Mycobacterium smegmatis as a model organism over Mus musculus! These little models are great for uncovering the secrets of mycobacteria.
 
Keith Derbyshire | Keith does not work in the lab as much as he would like! However, when he does get into the laboratory, he likes to do the classic, old-school bacterial genetics experiments. He is happiest patching and doing crosses. Everyone else is glad he sticks to these simple tasks!!
 
Jill Canestrari, Senior Laboratory Technician | Jill is characterizing the many small proteins in mycobacteria
 
Sarah Montgomery, Graduate Student | Sarah completed her thesis characterizing the ESX-4 system and now has a job as a research scientist in Boston
 
Melissa Stones, Senior Laboratory Technician | Melissa finished her work on small proteins and now has a position as a research scientist in NYS Dept. of Health.